Escape to paradise with Travelution Holidays
Let us help you plan your dream holiday with our expertise and insider knowledge of Club Med resorts.
We will work closely with you to create the perfect itinerary, tailored to your preferences and budget.
Our Club Med specialist offers in-depth knowledge for informed decision-making and an unforgettable holiday.
Gain access to exclusive deals, discounts, and offers reserved for Travelution Holidays' clients.
Trusted by numerous luxury vacationers
This is our first time going through an agency to plan our holiday trip because our priority is hassle free because we have 2 young kids and wouldn't want to plan our itinerary at the same time taking care of the kids. Indeed, we have no regrets. All our queries were answered in detail and even gave us options to choose. Best part of all, we met them at the travel location! Definitely will recommend this agency to anyone who wants hassle free travelling right from your doorstep to your ultimate destination!
Discover Club Med All Inclusive Holidays
At Travelution Holidays, we specialize in crafting all-inclusive holiday packages to Club Med's premium resorts worldwide. Immerse yourself in luxury, comfort, and adventure as you explore over 70 stunning destinations, ranging from tropical beach escapes to exhilarating ski resorts.
Unparalleled All-Inclusive Experience
Club Med offers an unparalleled all-inclusive experience, where every aspect of your holiday is taken care of. From delectable gourmet dining options to an array of thrilling activities, you can indulge in unlimited fun and relaxation without worrying about additional expenses.
Club Med resorts are renowned for their family-friendly atmosphere, ensuring that both children and adults have an incredible time. Kids can enjoy supervised activities and programs while parents take advantage of well-deserved relaxation. Create beautiful memories together as a family and strengthen your bonds in the most captivating destinations.
With Travelution Holidays, you can expect tailor-made Club Med packages that suit your preferences and budget. Whether you're seeking a romantic honeymoon escape, a family adventure, or a corporate retreat, our Club Med specialist will work closely with you to design the perfect itinerary.
Start Planning Your Club Med Holiday Today
Don't miss the opportunity to embark on an extraordinary Club Med holiday. Contact Travelution Holidays now to start planning your dream getaway. Our dedicated team is ready to assist you in creating a personalized itinerary that will leave you with unforgettable memories.
Let Travelution Holidays be your Club Med specialist, ensuring that every aspect of your holiday is flawlessly arranged and that you have an exceptional and worry-free vacation experience. Trust us to make your dream getaway a reality.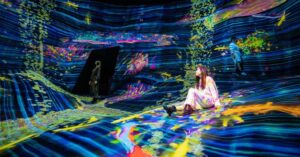 Immerse yourself in the newly opened teamLab SuperNature Macao, where breathtaking artworks spring to life with your touch and movement.
Read More