We'll help you plan your dream vacation
A Great Travel Experience Starts Here
Contact Travelution Holidays
Let us help you with your travel planning. 
Choose the place and time
Select the best place and time for your travel. 
Start exploring the world
Sit back, relax, and enjoy your trip!
Travelution Holidays is a Club Med specialist and travel agency that offers a wide range of travel services, including flight and hotel bookings, cruises, and destination-specific activities and tours. Our team of experienced travel consultants are passionate about travel and are dedicated to finding the best deals and most unique experiences for our clients. Whether you're planning a romantic getaway, a family vacation, or a solo trip, Travelution Holidays will work with you to create the perfect itinerary and make sure all your travel needs are met. Are you ready for a great travel experience?
Club Med is the ultimate vacation destination for travelers seeking hassle-free holidays for a multi-generational family vacation, honeymoon, friends gathering or a company retreat. 
Escape to one of the beautiful resorts located in some of the most stunning locations around the world. From the white sandy beaches of the Maldives to the picturesque mountains of the Hokkaido mountains, Club Med has something for everyone.
Experience stress-free holidays with Club Med all-inclusive packages, featuring comfortable accommodations, gourmet dining, open bar, and a wide variety of activities and entertainment. 
For the adventurous, Club Med offers a wide range of activities such as sailing, windsurfing, rock climbing, and much more. Club Med's professional GOs will ensure that you have a safe and enjoyable experience.
Traveling with children? Club Med offers a variety of programs and activities for children of all ages, so you can relax knowing that your little ones are having just as much fun as you are.
Don't wait any longer, book your Club Med vacation with Travelution Holidays today and experience the best holiday ever.
Travelution Holidays is the perfect place to start your journey with Club Med – you'll feel like you're on holiday before you've even left home.
Our team of Club Med specialists have visited Club Med resorts around the world and have first-hand knowledge of the destinations, facilities, and activities offered, so you can be sure that you're getting the most accurate and up-to-date information.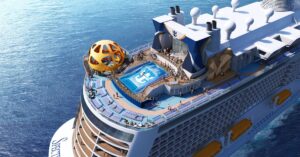 Discover the beauty of Japan and Asia with a 12-night cruise from Singapore to Tokyo on Royal Caribbean's Spectrum of the Seas. Experience adventure and luxury on board with VR bungee trampoline, rock climbing, specialty dining, and much more!
Read More