Are you craving a getaway filled with sun, sea, and adventure? Look no further than the Club Med Flash Sale happening from 03 to 10 October 2023. This limited-time offer unlocks discounts for travel between 03 October and 31 December 2023. Let's explore the fantastic deals at Club Med Cherating and Club Med Kani, offering you the vacation experience you've always dreamed of.
Club Med Flash Sale Details
Let's delve into the specifics of this fantastic Flash Sale:
Club Med Cherating
Nestled on the east coast of Peninsular Malaysia, Club Med Cherating awaits with open arms. During the Flash Sale, enjoy an additional discount of RM100 per adult for a 2-night stay or RM200 per adult for a 3-night stay. This tropical paradise offers pristine beaches, lush jungles, and a plethora of exciting activities for all ages.
Club Med Kani
For those dreaming of an island escape, Club Med Kani in the Maldives is the perfect destination. During the Flash Sale, seize the opportunity to save RM 200 per adult on a 3-night stay. Please note the blackout dates from 16 to 31 December 2023. Discover the turquoise waters, overwater bungalows, and unparalleled marine life in this tropical haven.
Why Club Med Flash Sale?
Unbeatable Discounts
The Club Med Flash Sale offers discounts that are hard to resist. Whether you choose Cherating or Kani, you'll enjoy substantial savings on your dream vacation.
Flexible Travel Dates
You have the flexibility to plan your getaway between 03 October and 31 December 2023, according to your convenience. Please note that there are blackout dates for Club Med Kani from 16 to 31 December 2023.
Diverse Activities
Club Med resorts are well-known for offering a wide variety of activities. Whether you're interested in water sports, land sports, exciting excursions, or simply indulging in relaxing spa treatments, there's something to suit everyone's preferences.
All-Inclusive Experience
Club Med takes the hassle out of travel with its all-inclusive packages. Enjoy gourmet dining, premium open bar, and a variety of amenities without any extra charges.
Experiencing Club Med Cherating
Beach Bliss
At Club Med Cherating, wake up to the soothing sounds of the ocean and step onto the pristine beach. The soft sand beneath your feet and the warm tropical sun overhead create a paradise you won't want to leave.
Jungle Adventures
Explore the lush jungles surrounding the resort. Embark on nature walks, discover local wildlife, and immerse yourself in the beauty of the rainforest.
Water Sports Galore
For the adventurous souls, try your hand at kayaking, stand up paddle or sailing in the waters of the South China Sea. Club Med offers expert instruction, ensuring your safety and enjoyment.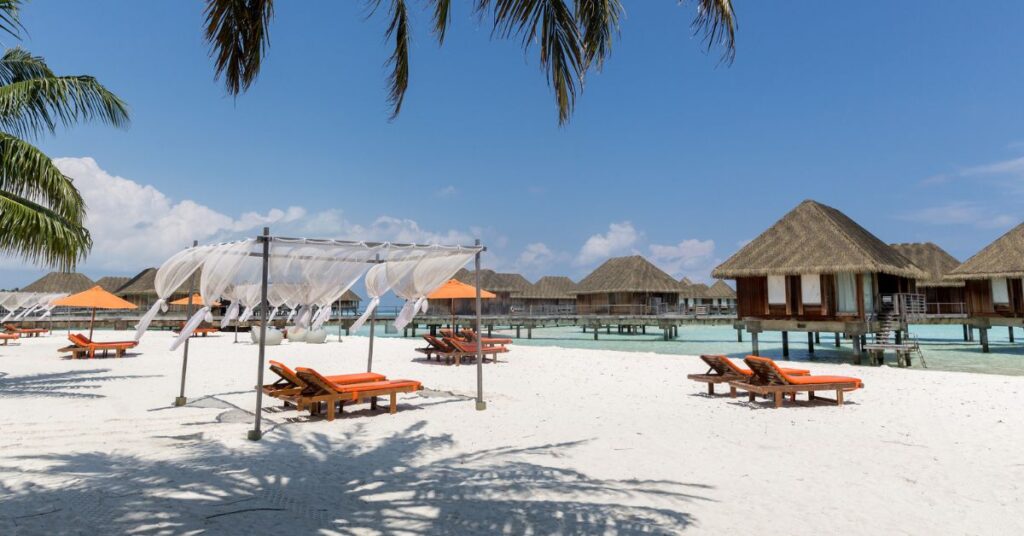 Club Med Kani: A Slice of Paradise
Overwater Suites
Indulge in luxury by staying in one of Club Med Kani's overwater suites. Imagine waking up to the sight of colorful fish swimming beneath your room.
World-Class Snorkeling
The Maldives is a haven for snorkelers, and Club Med Kani provides access to some of the world's finest snorkeling locations. Explore vibrant coral reefs and encounter captivating marine creatures. This activity is complimentary but requires passing a swim test.
Sunset Cruise
Wrap up your day with a mesmerizing sunset cruise on the Indian Ocean—an unforgettable and romantic experience that you and your loved ones will treasure forever. Please note that this activity comes at an additional cost.
FAQs About Club Med Flash Sale
How do I book the Club Med Flash Sale?
Booking is easy. Simply message Travelution Holidays on WhatsApp with your preferred resort (Cherating or Kani), your desired travel dates, and the number of people in your group.
Are these discounts applicable to children?
The flash sale offer is applicable for adults only. However, Club Med offers special rates for children under 18 years of age on the day of check-in.
Can I change my travel dates after booking?
You can make changes to your reservation if your travel date is more than 60 days before the check-in date, subject to availability. If the new travel date is at a higher price than the original booking, you will be required to pay the price difference. However, if the price of the new travel date is lower than the original booking, a penalty of RM200 per person will apply.
Are the meals included at Club Med Cherating and Club Med Kani?
Yes, both resorts offer all-inclusive packages, which include gourmet meals and a selection of premium beverages.
Is Wi-Fi available at Club Med resorts?
Yes, Club Med provides Wi-Fi connectivity so you can stay connected with loved ones or share your vacation moments on social media.
Conclusion
The Club Med Flash Sale from 03 to 10 October 2023, is your golden ticket to an unforgettable vacation. With gourmet meals, a free flow of drinks, a wide range of activities, and nightly entertainment, Club Med Cherating and Club Med Kani promise an experience like no other. Book your dream getaway, pack your bags, and get ready to create cherished memories in paradise.