Club Med, the world's leading provider of upscale, all-inclusive holiday packages with a French touch for families, couples, and groups. Club Med operates more than seventy resorts worldwide, present in thirty countries around the world. With the all-inclusive package, accommodation, all-day dining and drinks, sports & activities, childcare and entertainment are all included.
Where is Club Med Cherating?
Club Med Cherating Beach is in the state of Pahang, Malaysia. The resort opened in 1979 was the hospitality group's first Asia resort and the largest Club Med resort in the world. Get all the essential information that you need to know in our Club Med Cherating review before visiting this unique jungle beach resort.
Club Med Cherating is open throughout the year, even during monsoon season. The resort is divided into two sections. The main area has a reception, two restaurants, main bar, theatre, gym, swimming pool, kid's club, boutique, spa, land activities, and ten room blocks.
The second area is located at Pantai beach. This area has the Zen Pool, one restaurant, two bars, and beach activities. Pantai Beach is connected to the main area by shuttle train that operates in intervals of 30 minutes, or you can take a 20-minute along the road that the shuttle train uses. As of December 2022, the jungle trail is temporarily closed due to the reconstruction of the walking path.
How To Get To Club Med Cherating?
Most guests from Kuala Lumpur prefer to drive to Club Med Cherating. It's an easy 3-hour drive from Kuala Lumpur using the Karak highway then onto the East Coast Expressway. Private car transportation can be arranged between Kuala Lumpur and Cherating from RM700 per vehicle per way (subject change due to fuel and toll price).
Alternatively, there are direct flights from KLIA, and Singapore to Sultan Ahmad Shah Airport in Kuantan. From the airport, it is approx. 50 minutes to Club Med Cherating. Transportation between the airport and the resort can also be arranged from RM95 per person per way.
When is the best time to visit Club Med Cherating?
Club Med Cherating is open throughout the year. The best time to visit is between June and August during the turtle hatching season. If you plan to go during monsoon season (late November to January), some activities may be closed due to the weather. Indoor activities (table tennis, badminton, dance class, board games, etc.) will be organized during rainy days.
How Much Is the Club Med Membership Fee?
Club Med in Malaysia no longer charges an annual membership fee. Guests are now automatically registered for travel insurance when making a booking and enrolled in the Great Members program to collect points for status and benefits at the resort.
What are All-Inclusive Holidays?
All-inclusive holidays are packages that include everything you need for your trip. This type of holiday is popular because they offer a convenient and stress-free vacation, as everything is taken care of upfront. The Club Med All-Inclusive package includes accommodation, full board meals, premium open bar inclusive of alcohol, sports and leisure activities, nightly entertainment, childcare, and Wi-Fi. With these inclusions, there is no worry about overspending on your holiday. Just worry about how much you want to enjoy your holiday.
What type of drinks are included?
Club Med offers a wide range of drinks included in the all-inclusive package. Choose from juices, soft drinks, beer, wine, coffee, and tea at restaurants, while the Orchid main bar serves a wider range of drinks including mocktails and cocktails (tequila sunrise, margaritas, gin tonic, etc.). The Bayou beach bar and Zen Pool bar serve a limited choice of alcoholic and non-alcoholic drinks. Drinks in the all-inclusive package are served per glass.
Club Med All-Inclusive Drinks
| | |
| --- | --- |
| Category | Drink |
| Coffee | Espresso, Ristretto, Lungo, Americano, Cappuccino, Latte, Mocha |
| Tea | English Breakfast, Jasmine, Chamomile, Earl Grey, Peppermint, Ginger Tea |
| Ice Beverage | Iced Tea, Iced Chocolate, Iced Latte, Iced Americano |
| Bubble Tea | Tropicana, Berry Me |
| Soft Drinks | Coke, Coke Zero, Sprite, Fanta, Soda Water, Tonic Water, Ginger Ale |
| Hot Beverage | Hot Chocolate |
| Juice | Orange, Apple, Lemon, Pineapple, Mango, Cranberry, Lychee, Tomato, Guava |
| Club Med Signature | Ask the GO to pick his favorite cocktail for you |
| Old but Gold | Margarita, Daiquiri, Pina Colada, Mojito, Negroni, Mint Julep |
| Cherating Signature | Firefly, Mangrove Bay, Cherating Night |
| Mocktails (non-alcoholic) | Turtle Rock, Cherada, Sunset, Oasis |
| Milk Shake | Monkey Breakfast, Choco Loco |
| Beer | Tiger, Heineken |
| House Wine | Red, White, Rose, Sparkling |
| House Brand Spirit | Gin, Vodka, Rum, Tequila, Whisky, Brandy |
| Call Brand Spirit | Smirnoff Vodka, Gordon's Gin, Captain Morgan, Bacardi Rum, Jim Beam Whisky, Red Label Whisky |
| Aperitif | Richard, Martini Rosso, Martini Bianco, Campari, Aperol, Sambucca, Cherry Brandy, Cream de Coca, Creme de Mure, Cream de Casis, Pepermint, Amaretto |
Club Med Ala Carte Drinks
Selected premium drinks like champagne, branded wines or hard liquor are at extra cost. The price listed is based on December 2022
Drink
Per Glass
Per Bottle
Cherating Premium Signature
• Pantai Surfing
• Blue Seaside
• Belalang

RM35
RM45
RM55




Mineral Water
• Evian 33cl
• Perrier 33cl




RM13
RM17
Fresh Coconut
RM15
Gin
• Tanqueray
• Bombay Sapphire
• Roku Gin

RM24
RM27
RM49

RM364
RM390
RM398
Cognac
• Prince Polignac VSOP
• Remy Martin VSOP
• Martell XO

RM32
RM39
RM85

RM484
RM580
RM1273
Whisky
• Brown Junmai 37.5cl
• Brown Junmai 75cl
• Premium Junmai 75cl
• Jim Beam Black
• Johnnie Walker Black
• Kaicho Whisky Japanese
• Chivas Regal 12 Years
• Glenfiddich 12 Years
• Johnnie Walker Gold
• Johnnie Walker Blue
• Wu Liang Ye

–
RM12
RM15
RM26
RM28
RM33
RM37
RM38
RM39
RM83
RM196

RM88
RM170
RM213
RM384
RM426
RM500
RM552
RM575
RM578
RM1248
RM1760
Vodka
• Absolute
• Grey Goose Vodka

RM24
RM32

RM342
RM520
Rum
• Bacardi Gold
• Zacapa 23

RM24
RM35

RM342
RM520
Imported Beverage
• Red Bull
• Soju
• Guinness Stout
• Budweiser
• Hoegaarden
• Erdinger Dark

RM10
RM25
RM17
RM31
RM32
RM46
Champagne & Sparkling Wine
• Moet & Chandon Brut 37.5cl
• Moet & Chandon Brut
• Moet & Chandon Rose
• Moet & Chandon Ice Imperial
• Veuve Clicquot Brut
• Dom Perignon
• Bottega Gold
* Bottega Rose Gold

RM345
RM520
RM580
RM623
RM527
RM1367
RM300
RM480
Club Med Cherating Review – Food
You can eat till you can't move at Club Med Cherating! Six meals (breakfast, late breakfast, lunch, late lunch, dinner, and late dinner) are included in your all-inclusive package, served in three restaurants at various times of the day. There are also snacks near the main bar for those who want something light.
• Mutiara Restaurant
Mutiara is the main restaurant serving buffet breakfast, lunch, and dinner with live cooking stations. Guests are required to wear gloves while taking food at the buffet area.
The restaurant offers a wide variety of dishes including Chinese, Malay, Indian, Japanese, Italian, and Western. The food at Mutiara is one of the best among all the Club Med villages that I have visited.
I am happy to share that the food at Mutiara Restaurant has improved with the arrival of new chefs in December 2022.
• Rembulan Restaurant
You will need to take the Club Med train to dine at Rembulan Restaurant. Located at Pantai Beach, the specialty restaurant is open for a late lunch with a small buffet section and table service for dinner. No reservations are required for late lunch, but dinner requires reservations of at least one day before dining.
In the event if you are not full after your meal at Rembulan, you can ask for an additional item from the menu or continue eating at Mutiara, subject to restaurant opening hours.
• Enak Noodle Bar
Enak Noodle Bar is in the main area next to Mutiara Restaurant. Opens for late breakfast, late lunch, and late dinner. For late breakfast, it offers a limited buffet including juices, nasi lemak, congee, egg station, breads, and cereals. While for late lunch and late dinner, the outlet offers a choice of noodles and soup or sauce as well as sandwiches.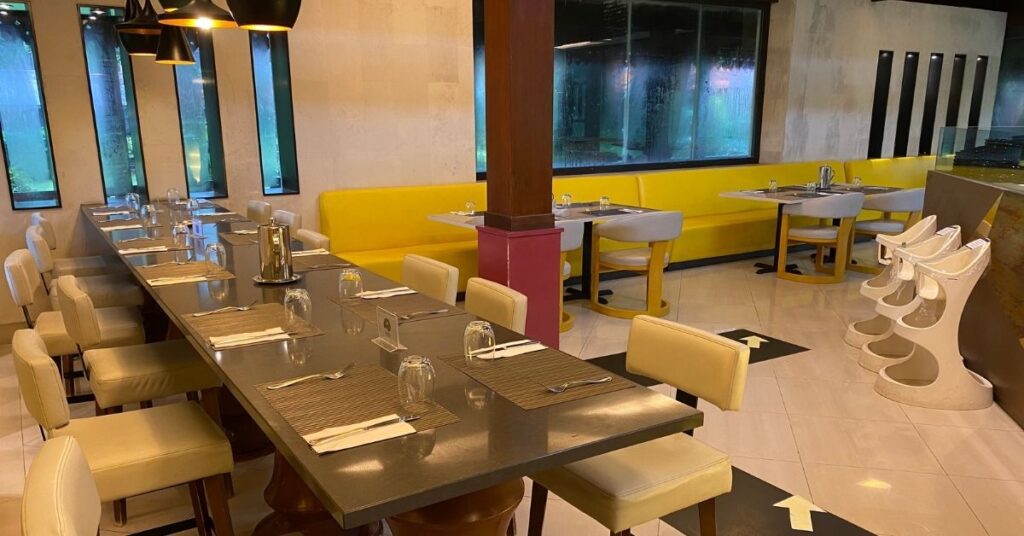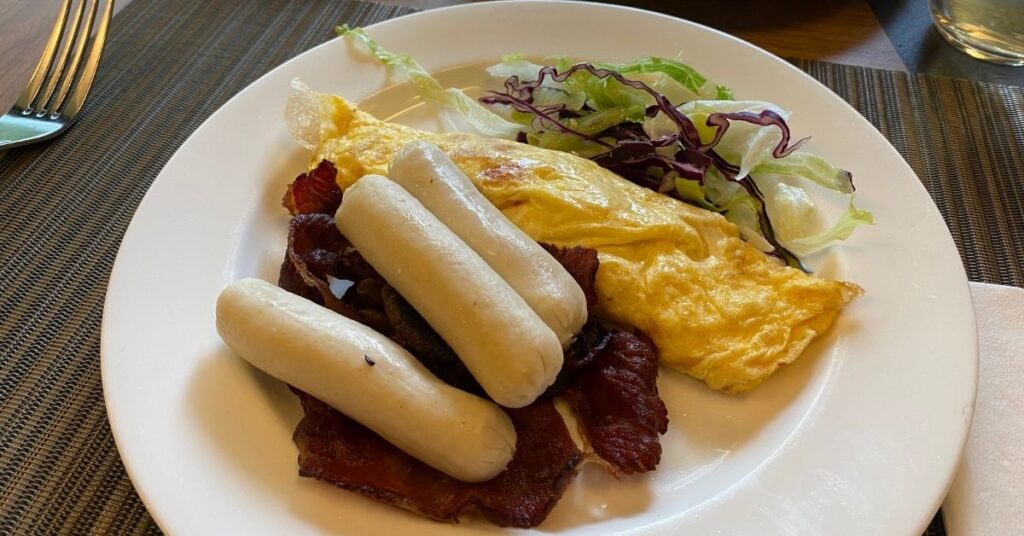 Guests with Diet Requirements
Halal Meals – For Muslim guests, the food in Club Med is halal but the restaurant does not have halal certification as alcohol (beer and wine) is served.
Vegetarian and other dietary needs – For guests with a special diet, please speak to the head chef at the restaurant regarding your requirements. The chef and his team will recommend suitable dishes in the restaurant or cook a main meal for you.
Baby Meals – For the little ones, the baby corner is beside Mutiara restaurant. This facility is open 24 hours and provides parents with small jars of savory and sweet baby food, blender, sterilizer, bottle warmer, microwave and mineral water.
Meals on the Day of Arrival
Lunch is not included on the day of your arrival. The official check-in time is 3 pm. After check-in you can head to Enak Noodle Bar for noodles or a sandwich. Alternatively, there are snacks like pastries, or fruits in the main bar area, while waiting for dinner time. In the event you arrive early at the resort, Club Med will charge an early arrival fee of RM140 per adult to cover the cost of buffet lunch and drinks.
Meals on the Day of Departure
On the day of departure, breakfast and lunch are provided. Departure from the resort is before 3pm.
Club Med Cherating Review – Rooms
Club Med Cherating is built in a distinctive longhouse architectural design. It holds the record for the world's longest wooden structures on stilts at 850 meters long. Accommodation at Club Med Cherating is comfortable, with three variety of room types to choose from. The resort offers Superior Garden, Superior Seaside and Suite rooms. There are interconnecting rooms available for families. All rooms are equipped with modern amenities such as air conditioning, flat-screen TVs, and Wi-Fi.
• Superior Rooms
There are two types of Superior Rooms – Superior Garden and Superior Seaside. The room types are located on different ends of the resort.
Both Superior room types are 21sqm and come with two super single beds that can be put together to form a double bed. Room amenities include TV with international channels, hairdryer, empty minibar, coffee/tea making facilities, separate shower, and toilet. There is no bathtub in Superior room.
The main difference of the Superior Seaside besides the view is the inclusion of a hand bidet in the toilet. The bidet is not available in Superior Garden. Interconnecting rooms are available for families with a surcharge.
• Suite
Suite rooms are located at the end of selected blocks. The room is spacious at 55 sqm and comes with a separate living room, bathtub, shower, and balcony with sun deck. Additional benefits include in-room continental breakfast, a stocked mini-bar that is replenished daily and priority booking for the specialty restaurant.
Room Occupancy
Each room type can occupy a maximum of two adults with one child and one infant. Interconnecting rooms can be used to form family rooms. Babies will be provided with baby cots and baby bathtubs in the room.
Guests with two adults and two children will be provided with two rooms. Some guests have asked if they can reduce it to one room. Club Med price is based on per person and not per room. Even if you want to occupy only one room, the price remains the same.
Club Med Cherating Review – Activities
Club Med is the world's largest sporting school and one of the standout features of Club Med Cherating is the wide range of activities on offer. The resort has three private beaches, which is perfect for sunbathing, or simply relaxing. There are also two swimming pools, a fitness center, and a range of sports facilities including tennis courts and flying trapeze. Here is the list of included activities.
Land Sports
Flying trapeze school with circus
Archery school
Tennis school
Fitness school
Rock climbing school
Basketball
Table tennis
Stretching and yoga
Pilates
Badminton
Squash
Futsal
Beach volleyball
Bocce ball
Water Sports
Sailing school
Kayak
Standup Paddle
Aqua fitness
Other Activities
Power walk
Botanical walk trail
Nature walk
Dance lessons / Zumba
Club Med offers group lessons for selected activities. These are wonderful ways for guests to meet new people and participate in new sports activities while on vacation. Do check the timetable in the Club Med App for the time slot for your age group. Activities may be cancelled during severe weather or unsuitable sea conditions.
Private Lessons
Club Med offers private lessons for guests looking to improve or learn a new activity. The lessons are tailored to the individual needs and goals of each guest, ensure they receive personalized instructions and attention.
The resort's experienced instructors are certified in a variety of sports and activities including tennis and sailing. They are dedicated to helping guests achieve their goals, while having a fun and rewarding experience.
Sailing lessons

One person – RM200 per hour
Two persons – RM240 per hour
Three persons – RM340 per hour
Four persons – RM460 per hour


Tennis lessons by ITF Certified Coach

30 minutes lesson for children – RM100
1 hour lesson for single adult – RM200
1 hour lesson for two adults – RM240
1 hour lesson for three to five adults – RM460


Personal Training

One person – RM200 per hour

Two persons – RM240 per hour
Three persons – RM340 per hour
Four persons – RM460 per hour
Club Med Cherating Mandara Spa
Club Med Cherating spa is operated by Mandara Spa, a world-renowned spa offering a wide range of services and treatments designed to relax and rejuvenate the mind, body, and soul.
Guests can choose from a variety of massages, facials, body wraps, and other treatments. All treatments are performed by skilled therapists and estheticians using high-quality products and techniques.
Note: Spa is not included in the Club Med All-Inclusive Package.
Packages of Club Med Spa
Frangipani Body Glow (2 hours) – RM780
Pure Indulgence (2 hours 30 minutes) – RM670
Harmony (2 hours) – RM660
Spa Discovery (1 hour 20 minutes) – RM410
SPA Sampler (1 hour 20 minutes) – RM400
Heaven & Earth (1 hour) – RM269
Download the complete Club Med Cherating Spa Menu
Club Med Amazing Family Program
Club Med Amazing Family program is designed specifically for families. This program allows parents to bond and create memories with their children with fun-filled activities like family archery, arts & crafts, memory games, treasure hunts and more. All organized for the family to play together.
Excursions
Club Med also offers excursions like firefly encounter and mangrove cruise at extra cost. If you are interested, you can pre-book when making your reservations or sign up for the excursions desk at the bar area.
Dress Code and Nightly Entertainment
Club Med has theme nights with different dress codes every night including all-white, cappuccino and even glow. It's not compulsory but fun to join in the dress code. After dinner, there will be an evening show at the theatre. The shows done by the talented Club Med GOs range from the circus to comedies and musicals.
After the show, there will usually be a couple of songs with the crazy sign, a signature Club Med dance move. It's a fun session for everyone to join in.
The second part of the night could be a dance party or a relaxing evening with live music. Announcements will be made before the theatre show and in the daily program notice board.
Is Childcare Included?
Club Med offers top-quality childcare for families with children. The resort's Kids Clubs are run by professionally trained GOs who provide a safe and fun environment for children. Club Med's Kids Clubs offer a wide range of age-specific activities and entertainment for children aged 4 months to 17 years. These activities are designed to stimulate the imagination and encourage learning through play.
Club Med's childcare services are a fantastic way for families to have peace of mind while on vacation. Parents can relax and enjoy their vacation knowing that their children are well taken care of and having fun.
Baby Club Med (4 – 12 months) – The service is an extra cost. Activities include sing-a-longs, chasing bubbles and games. Early reservations are recommended due to limited spaces. Download Timetable.
Petit Club Med (2-3 years) – The service is an an extra cost. Activities include arts & crafts, jungle walks, water park, crab hunting and more. Download Timetable.
Mini Club Med (4-11 years) – The Mini Club Med is complimentary and the signature children's club with endless activities such as sailing, kayaking, archery, flying trapeze and more. Kids will also get to perform their show in the evening.
Club Med Passworld (12 to 17 years) – The Club Med Passworld is complimentary. Teens will be well taken care in their own room. Activities include nature explorations and the opportunity to meet friends from all over the world.
Babysitting – In-room babysitting is available at Club Med Cherating. You can reserve this service at extra cost.
The Kids Club GOs are great with kids and will make them feel welcome. It is heartwarming to listen to kids talking about the activities and how much fun they had at the end of each day.
Me Time
Club Med Cherating offers a range of activities for guests to relax and unwind while on vacation. With the children looked after by Kids Club GOs, the adults can have some "Me Time" to take a break and recharge their batteries.
One of the best ways to relax and unwind at Club Med Cherating is to book a treatment at the resort's Mandara Spa. Another wonderful way to relax is to spend time at the Zen pool, which offers a peaceful and tranquil environment where guests can swim, sunbathe, and relax.
For guests looking for a more active form of relaxation, Club Med Cherating offers yoga classes with the view of the South China Sea in the background.
Instagrammable Moments
Club Med Cherating is a jungle paradise blessed beautiful landscape overlooking the South China Sea. There are lots of opportunities to capture Instagrammable moments including wildlife like monkeys, lizards, wild boar and more.
Club Med Cherating Tips
Check-in is after 3 pm on the first day. Early arrival is subject to an additional fee to cover buffet lunch, free flow drinks and activities.
On the last day, check out at 11am. You can remain in the resort until 3pm with lunch included. A shower room is available below the bar to freshen up before departure from the resort after lunch.
Download the Club Med app to discover the latest information including daily dress codes.
Stay at least 3 nights to fully immerse yourself in the Club Med experience
Remember to pack swimwear, sports shoes and sandals, extra clothes, mosquito repellent and sunscreen. Young children will require proof of up-to-date vaccination.
Washing machines are available on the ground floor of selected blocks. Tokens can be purchased from reception.
Remember to bring a copy of your Club Med confirmation and identification card or passport for check-in.
Is Club Med Cherating a Good Choice for a Holiday?
Club Med Cherating is a fantastic choice for a holiday. One of the main attractions of Club Med Cherating is its location. The resort is situated on the east coast of Malaysia, surrounded by lush rainforest and beautiful beaches. This unique setting provides a serene and peaceful environment for guests to relax and unwind.
In terms of activities, Club Med Cherating has something for everyone. The resort offers a wide range of water sports, including sailing, kayaking, and stand-up paddleboarding. It also has a fully equipped gym, tennis courts, and a flying trapeze. For a more cultural experience, the resort offers a variety of excursions and activities that allow guests to learn about and experience the local culture.
Club Med Cherating has a range of dining options, including a main restaurant, a beachfront restaurant, and several bars. The resort's all-inclusive package includes meals, snacks, and drinks, making it easy for guests to enjoy all that the resort has to offer.
Overall, Club Med Cherating is a fantastic choice for a holiday. With its beautiful location, wide range of activities, and dining options, it is sure to provide a memorable and enjoyable vacation experience.
Is Club Med Cherating For Sale?
Club Med is looking for a new owner to take over the property in a sale-and-lease agreement so that it may continue to manage it. This arrangement is like many hotels around the world, where the owner of the property engages an international company to manage and use its branding.
How to Book Club Med Cherating
Booking a vacation to Club Med Cherating with Travelution Holidays is easy and convenient. Here are the steps to follow:
Contact Andy or Eugene with the following information:

Desired travel dates
Number of travelers (adults, teens, and children). For children & teens, we will need to know their age at the time of check-in. If there are multiple families, do let us know the family grouping.
Preferred room type
Any optional services such as flights or transfers


Review the quotation, including the total cost.

Provide the name, gender, and date of birth of each traveler to make reservations.

Pay a deposit of RM500 per person to secure your booking. Balance payment to be made 60 days before check-in.

Once the booking is complete, you will receive a Club Med confirmation with details of your vacation.
Booking with Travelution Holidays gives you the convenience of a one-stop shop for all your vacation needs. The company's experienced travel consultants can help you choose the perfect vacation package and take care of all the details, so you can relax and enjoy your trip.