Club Med Kiroro Peak, the newest addition to the Club Med family, opened its doors in December 2022 after a massive renovation of the Sheraton Hokkaido Kiroro Resort. Another Club Med property, Club Med Kiroro Grand, which was previously The Tribute Portfolio, is set to open in December 2023, just a three-minute drive away. Both properties have undergone extensive refurbishment and rebranding to meet Club Med's standards. As soon as we heard about this exciting new addition, we knew we had to experience the resort's amenities and world-class skiing for ourselves. Read on for our Club Med Kiroro Peak review.
Table of Contents
Club Med Kiroro Peak Location
Club Med Kiroro Peak is situated in the western region of Hokkaido, Japan. The ski resort is positioned in a unique location, with its ski slopes nestled between the peaks of Asari-dake and Nagamine-dake. The rugged and picturesque landscape of Hokkaido surrounds the area, making it a winter wonderland with breathtaking natural beauty, attracting visitors from all around the world.
Kiroro is renowned for its legendary powder snow and is considered as a hidden gem by many skiers and snowboarders. The snowfall in Kiroro is among the highest in the world, with an average annual snowfall of over 20 meters. The snow is light and dry, making it ideal for deep powder skiing and snowboarding. The powder snow season in Kiroro usually begins in November and lasts until May, providing enthusiasts with a long ski season to enjoy the spectacular conditions.
Reaching Club Med Kiroro Peak
To reach Club Med Kiroro Peak, travelers will need to fly into Chitose Airport, which is conveniently located near Sapporo, the capital city of Hokkaido. Chitose Airport is well-connected to major cities in Japan and serves as a gateway to the region. Once you arrive at the airport, you can embark on an exciting journey to the resort.
The journey from Chitose to Kiroro takes approximately 2 hours by car, although travel times can vary depending on weather conditions and the state of the roads. The route from Chitose to Kiroro offers stunning views of the surrounding landscapes, with snow-capped mountains, dense forests, and charming villages along the way.
As you make your way towards Club Med Kiroro Peak, you'll notice the serene beauty of Hokkaido's countryside unfold before your eyes. The region is famous for its powdery snow, making it a haven for winter sports enthusiasts. Kiroro boasts excellent skiing and snowboarding opportunities, with a variety of slopes suitable for beginners and experienced skiers alike.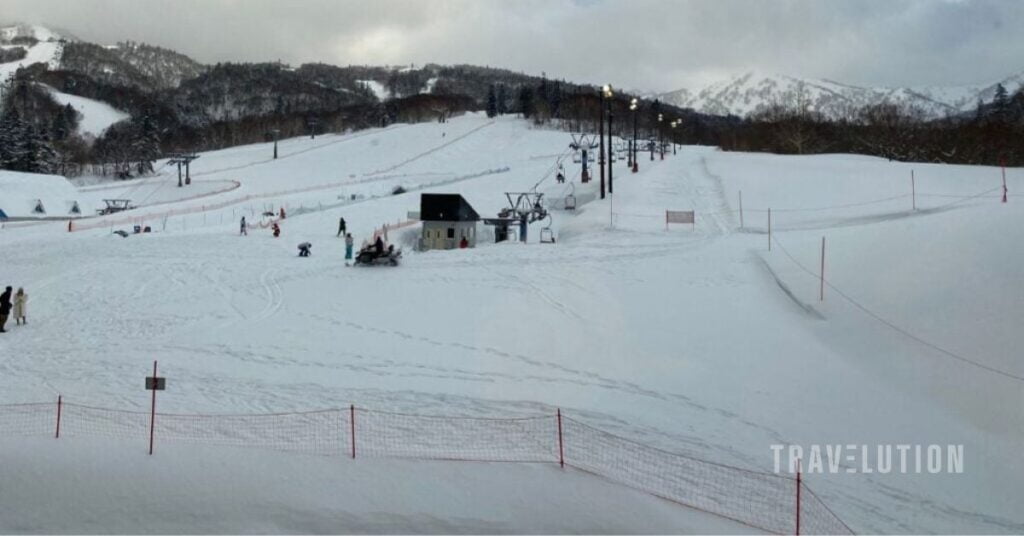 Weather: Know When to Visit
The best time to visit Club Med Kiroro Peak is from December to March. The temperature during this time is cold, but it's perfect for skiing and other winter activities. Additionally, the snowfall during these months is plentiful, allowing for the best skiing and snowboarding experience.
If you're looking to avoid the crowds, March is the best time to visit. The slopes are less busy, allowing for a more peaceful and enjoyable skiing experience. It's also recommended to ski on weekdays, as weekends can be a little crowded with locals coming for a weekend escape.
Booking Flights to Chitose
We made a reservation for our trip to Club Med Kiroro Peak about a month before our travel date. Flight prices are much higher post-Covid due to limited flights and higher fuel prices. Our round trip flight tickets from Kuala Lumpur to Chitose via Tokyo costs MYR 4900 per person.
Surprise Call from Club Med Kiroro Peak
Just two days prior to our flight, Tiffany from Club Med Kiroro Peak contacted me to address any concerns we may have had before our arrival. When we mentioned that we wanted to make reservations for the Yakiniku specialty restaurant, she quickly made the arrangements for us.
She even shared her WhatsApp number so we could stay connected before our arrival, which was a pleasant surprise for me since I had never received a pre-arrival call from Club Med before.
Flying to Japan
For our trip from Kuala Lumpur to Chitose, we took a Malaysia Airlines flight to Tokyo Narita. From there, we boarded a Jetstar Japan flight (which codeshares with Japan Airlines) to Chitose. On the return journey, I flew with Japan Airlines from Chitose, with a layover in Tokyo, before continuing to Kuala Lumpur.
Malaysia Airlines Review
The flight from Kuala Lumpur to Tokyo Narita on Malaysia Airlines was operated by an Airbus 350 with a seating configuration of 3-3-3. The flight duration was 7 hours and 10 minutes. The seating was comfortable with sufficient legroom, but unfortunately, the meals served during the flight were unsatisfactory.
For the late-night snack, we were given a dry and tasteless corn dog. The crew provided a packet of ketchup to add some flavor, but it didn't help much.
Breakfast was also a letdown. Despite being informed it was Nasi Lemak, it was just curry chicken with rice, a small omelet, and a tiny packet of peanuts and anchovies. This did not meet my expectations for what constitutes a proper Nasi Lemak dish.
Our flight landed at Terminal 1 in Tokyo Narita, and we had to clear immigration and customs before continuing our journey. As of the time of writing, all visitors to Japan are required to complete quarantine, immigration, and customs procedures online through the Visit Japan Website.
We had a 2.5-hour layover at Tokyo Narita, which was enough time for us to complete the arrival procedures and walk to Terminal 3.
Jetstar Japan Review
The Jetstar Japan flights depart from Terminal 3 at Tokyo Narita. To reach the terminal, follow the arrows on the floor. Travelers must exit Terminal 1 and walk along the covered outside walkway to Terminal 3.
Jetstar's check-in process is automated. Travelers need to use the machine to check-in, print the baggage tag, and tag their own bags before placing them into the machine. We were not familiar with the placement of the baggage tag. There is an automated scanner that detects the baggage tag in specific positions. We had to reprint and re-tag one of our bags as the tag was not in the correct position.
The flight from Tokyo Narita to Chitose was on an Airbus A320, which is the standard aircraft used by most low-cost airlines for short-haul flights. The flight time from Tokyo to Chitose is 1 hour and 45 minutes.
As Jetstar is a low-cost carrier, snacks and drinks are available for purchase. Since we booked the flight as part of an international ticket under the Japan Airlines codeshare, we received a credit of JPY 300 (MYR 9) per person to buy any snack or drink we wanted. We chose Wilkinson Black, a smooth and tasty Nikka Whiskey. The crew asked if we wanted the can opened as it was only 10am. I wondered if they thought we were crazy for drinking alcohol at that time of day.
Arrival At Chitose Airport
Upon arrival at New Chitose Airport, we landed at the domestic terminal at 11:30 am. After collecting our baggage, we proceeded to the arrival hall at Door 5 on the Southside. Turning right and walking straight, we easily located the Club Med Counter, where we registered ourselves. The staff informed us to come back at 1:30 pm to the transport waiting area, where we would be picked up for our journey to Club Med Kiroro.
Shopping and Food at Chitose Airport
As we had time to spare, we went upstairs to the combined departure and shopping area of the airport. There was a small Uniqlo store where we managed to pick up a warm vest that was no longer available in Malaysia. Feeling hungry, we headed to the food court on the third floor where we enjoyed some delicious miso ramen for JPY850 (MYR 27) . The price was reasonable for an airport meal, and we also saved some money on beverages since free drinking water was available at the water station in the food court.
Transfer from New Chitose Airport to Club Med Kiroro Peak
After finishing our meal, we returned to the waiting area and were met by a representative. They guided us to the exit where the van was already waiting for us. Our baggage was loaded, and we embarked on a two-hour journey from the airport to Club Med Kiroro.
On our way to Club Med Kiroro Peak, we were mesmerized by the stunning winter landscapes that were covered in pure white snow. The sight of snow-clad mountains, trees, and fields stretching for miles in front of us was truly a sight to behold. It was a beautiful reminder of the magic and beauty of nature, and we couldn't help but feel grateful for being able to witness such a breathtaking view.
About halfway through our journey, we made a brief stop at a rest area to stretch our legs and take a quick bathroom break. It was a fantastic opportunity to grab some snacks and hot drinks to keep us warm during the rest of our journey.
Welcome Home to Club Med Kiroro Peak
Upon our arrival at Club Med Kiroro Peak, James from the reception team extended us a warm welcome. He quickly shared his WhatsApp number with us, so we could contact him at any time should we have any questions or concerns. He provided us with a detailed orientation regarding the room key, ski pass, and gave us a tour of the resort's amenities before leading us to our room.
During our exploration of the resort, we met Merlin Chelliah, the General Manager of Club Med Kiroro, who was one of the reasons why we chose to stay there. She was already aware of our dinner reservation at The Kaen, a Yakiniku Restaurant at Club Med Kiroro Grand. It felt special that the General Manager remembered our dinner reservation.
Under Merlin's leadership, I have always had an amazing time at Club Med resorts. I have known Merlin and some of her key team members since 2014 when she managed Club Med Kani. I have also had the pleasure of visiting her again when she opened Club Med Tomamu in 2018, Club Med Bali in 2019, and now seeing her at Club Med Kiroro Peak felt like a reunion.
Upon seeing us, Merlin warmly greeted us with "Welcome Home". Her work ethic and commitment to customer satisfaction have always been admirable. Despite her high position, she remains humble and hardworking, always willing to go the extra mile to ensure guests have an unforgettable experience. I have seen her perform on stage during nightly entertainment, loading luggage onto speedboats at Club Med Kani, and even making breakfast milkshakes at Club Med Tomamu.
Club Med Kiroro Peak All-Inclusive Package
The Club Med Kiroro Peak package includes:
Accommodation
4 Daily International Buffet Meals – Breakfast, Lunch, Late Lunch, and Dinner
Snacks
Premium Open Bar inclusive of alcohol
Ski/Snowboard Lessons, Ski Pass and Leisure Activities
Nightly entertainment
Wireless Internet
With these inclusions, guests can enjoy their holiday without worrying about overspending. The only thing they need to worry about is how much they want to enjoy their holiday.
Club Med Kiroro Peak Dining
The Kaen – Yakiniku Specialty Restaurant at Club Med Kiroro Grand
We started our first dinner at The Kaen, a Yakiniku specialty restaurant located at Club Med Kiroro Grand, just a 3-minute car ride away from the resort. Despite the heavy snowstorm that evening, we enjoyed our Yakiniku meal, which is currently offered for free but will be chargeable starting from June this year. We were delighted to meet Dina, the restaurant manager whom I had previously met when she was the Bar Manager at Club Med Cherating. She promptly seated us at a corner table and ensured that we were well taken care of.
The Grand Yakiniku Basket is complimentary and part of Club Med's all-inclusive package. It features an assortment of premium meats and vegetables, perfect for grilling. The basket includes Hokkaido Beef Sirloin, Hokkaido Beef Kalbi, Lamb Genghis Khan, Hokkaido Chicken Neck, Hokkaido Pork Belly Slice, Hokkaido Pork Bone in Sausage, and Assorted Vegetables. Along with the grill, guests can enjoy Hokkaido rice, salad, cucumber, cabbage kobu, and kimchi as complementary sides.
Additionally, guests have the option to purchase add-on baskets for JPY12,000 (MYR 380) each.
Kam Kam Basket
Tokachi Wagyu Sirloin 100g
Hokkaido F1 Rib Eye 100g
Beef Tongue 60g
Atuy Basket
Red Shrimp 2 pcs
Hokkaido Scallop 2 pcs
Salmon Harami 2 pcs
Taraba King Crab 100g
Marinated Squid 50g
Kiroro Grand Premium Plate
Wagyu Beef 100g
Taraba King Crab 100g
Beef Tongue 60g
The Otaru – Main Restaurant at Club Med Kiroro Peak
The resort's only restaurant is called The Otaru, which has two themed zones: Western and Asian. The Western zone is open for breakfast, lunch, and dinner, while the Asian zone is open for lunch and dinner only. For breakfast, guests can indulge in a variety of dishes such as sashimi, udon, overnight oats, omelets, bacon, sausages, mini hash browns, waffles, and mini pancakes.
Lunch and dinner at The Otaru offer an extensive range of dishes that cater to different palates. From Asian options like fried rice and noodles, Italian dishes like pasta and pizza, western dishes like steak or grilled fish, to Japanese delights like tonkatsu, snow crab, ramen, and sushi, guests will surely find something that suits their taste. The restaurant also serves different dishes every day, ensuring a diverse dining experience. And to cap off the meal, guests can enjoy the delightful vanilla and lavender soft-serve ice cream.
Club Med Kiroro Peak Bar
Club Med Kiroro's The View bar is the perfect place to unwind after a long day on the slopes. With a cozy atmosphere and stunning views of the surrounding mountains, it's easy to see why this bar is a guest favorite.
List of Drinks Included in the Club Med Kioro Peak Package
Hot Beverage – Espresso, Cappuccino, Americano, Latte, Mocha, Hot Chocolate
Tea – Honey Citrus, Honey English Breakfast, Earl Grey, Darjeeling, Green Tea, Oolong Tea, Chamomile
Soft Drinks -Coke, Coke Zero, Sprite, Melon Fanta, Ginger Ale, Tonic Water, Soda Water, Aquarius, Calpis
Juice – Orange, Apply, Grapefruit, Pineapple, Mango, Cranberry, Guava
Iced Beverage – Iced Americano, Iced Latte, Iced Chocolate, Iced Tea
Old But Gold – Moscow Mule, Margarita, Pina Colada
Kiroro Signature – Otaru Cruise, Capa Kamui
Mocktail – Passionate, Fruit Park Niki, Mango Tango, Ginger Fox
Milkshake – Vanilla Syrup, Chocolate, Strawberry, Monkey Breakfast (Banana)
Beer – Sapporo Classic, Yebisu Black
House Wine – Red, White, Rose, Sparkling
House Brand Spirit – Vodka, Gin, White Rum, Tequlia, Whisky, Brandy
Others – Baileys, Amaretto, Kahlua, Malibu, Triple Sec, Cherry Brandy, Peppermint Liqueur, Lychee Liqueur, Apricot Brandy, Melon Liqueur, Aperol, Campari, Ricard, Martini Rosso, Martini Bianco, Martini Extra Dry, Shochu Iichiko, Sake Otokoyama, Port Wine
The bar's menu features two signature cocktails that are not to be missed. The first is the Otaru Cruise, which is a delightful mix of Vodka, Soju, Strawberry syrup, and Cranberry Juice. This refreshing cocktail is perfect for those who enjoy a fruity and slightly sweet drink.
The second signature cocktail is the Cape Kamui, which is a unique blend of Sake, Peach Syrup, Green Tea, and Lemon Juice. This cocktail has a more complex flavor profile, with a slight tartness from the lemon juice balanced by the sweetness of the peach syrup.
In addition to these signature cocktails, The View bar also serves beer such as Sapporo Classic and Yebisu Black as well as various coffee, tea, soft drinks, juices, ice beverages, cocktails, milkshakes, house brand wines, and spirits. It's all included in the Club Med package.
If you are lucky enough, you might get the chance to have your drinks prepared by Merlin, the talented General Manager of Club Med Kiroro Peak. She is also an expert mixologist who can whip up some of the most delicious cocktails you've ever tasted. We were fortunate enough to have Merlin make us a margarita. It was the perfect balance of sweet and sour, with just the right amount of tequila.
Club Med Kiroro Peak Rooms
Superior Room at Club Med Kiroro Peak
The Superior rooms at Club Med Kiroro Peak are spacious and amazingly comfortable, exceeding typical Japanese standards. All rooms include cozy beds, a flat-screen TV, mini fridge, tea and coffee-making facilities, and wifi access. The bathroom features a shower and bathtub side by side, which is much more convenient than having to climb into the bathtub for a shower. The beds were so comfortable that I slept soundly after struggling to sleep on the flight.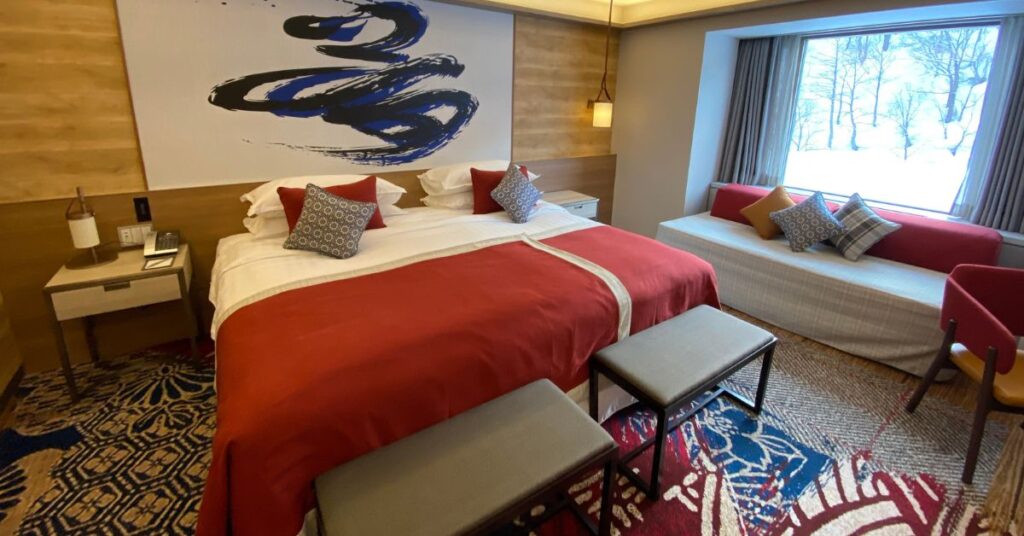 Deluxe Room at Club Med Kioro Peak
For those seeking even more space, there are Deluxe rooms available, which are like mini suites. There are two configurations: the Family Deluxe Room, which is one large space with the bedroom and living room separated by a TV and cabinet, and the Junior Family Deluxe Room, which features a room and living space separated by a wall. The sofa in the living space of both configurations can be converted into a bed.
Suites at Club Med Kiroro Peak
For a truly luxurious experience, the Suites offer breathtaking views of the mountain and surrounding landscape. These rooms come with additional amenities such as in-room breakfast, a daily-refilled minibar, and concierge service.
Club Med Kiroro Peak Activities
Skiing and Snowboarding
Club Med Kiroro Peak is renowned for its exceptional skiing and snowboarding opportunities, offering 23 runs suitable for all levels of expertise. Guests of Club Med receive complimentary ski and snowboarding lessons, as well as a ski pass that allows access to the ski lifts and gondola. It's crucial to keep the ski pass safe and return it during check-out.
To participate in ski or snowboard lessons, guests must register at the Club Med Kiroro Peak lobby area between 6pm and 7pm on the first evening of their stay. This ensures that they can attend the class the next morning and maximize their time on the slopes.
If you don't have your own ski gear, rental equipment is available at the Ski Pro Shop from 8.30am to 12.30pm and from 1.30pm to 5pm. The complete set of leisure ski gear, which includes skis, poles, boots, and a helmet, costs JPY7050 (MYR 223) per person per day.
Ski wear, consisting of a jacket and pants, can also be rented for JPY6500 (MYR 206) per person per day from the Boutique next to the Ski Pro Shop during specific times. If you plan to ski or snowboard for several days, it's recommended to purchase your own ski wear as rental costs will quickly add up.
It's advisable to wear snow goggles while skiing or snowboarding since the winds can be strong and the sun's intensity increases with altitude. While goggles can't be rented, they can be purchased. We discovered that the ski shop at the Mountain Center adjacent to Club Med Kiroro has a broader selection of goggles and price ranges.
On the day of our first ski lesson, we arrived a little late. Fortunately, Merlin and her team spotted us in the lobby and quickly helped us put on our ski boots and carry our equipment to the slopes. The ski boots were quite bulky and made walking difficult. I even needed assistance from one of the GOs to climb up the steps at the entrance of the slope.
We were lucky to have Ethan as our ski instructor. Our group was small with only three people, giving us plenty of individual attention. Ethan began by teaching us the fundamentals of skiing, such as how to put on and take off our skis, how to get up if we fell, how to stop, and how to climb slopes. Despite my struggles with learning how to stop, Ethan remained patient and understanding throughout the lesson.
After mastering the basics, Ethan took us up the ski lift to the top of the slope. He then instructed us to ski down without using poles, teaching us how to control our speed. However, I decided to skip this activity since I didn't feel quite ready to ski down the slopes yet.
Private Ski Lessons at Club Med Kiroro Peak
At Club Med Kiroro Peak, guests can take advantage of private ski lessons to enhance their skiing skills. The private ski lessons offer numerous benefits, including one-on-one attention from the instructor and the exclusive use of priority lanes in Gondola, Yoichi No. 1, and Nagamine No. 2 chairlift. With this personalized approach, guests can receive tailored feedback and improve their technique at a faster pace than in a group lesson setting.
| | | |
| --- | --- | --- |
| Number of Students | Morning Session – 2 Hours | Afternoon Session – 2 Hours |
| 1 person | JPY38,150 (MYR 1,207) | JPY34,335 (MYR 1,207) |
| 2 persons | JPY51,230 (MYR 1,620) | JPY46,107 (MYR 1,458) |
| Additional person | JPY8,720 (MYR 276) | JPY8,000 (MYR 253) |
Off Slope Activities at Club Med Kiroro Peak
Apart from skiing and snowboarding, Club Med Kiroro Peak offers indoor activities to keep you entertained throughout your stay. There are wellness treatments in the spa, Zumba and Abs workout class at the theatre, workout at the fitness center, or join a yoga or meditation class.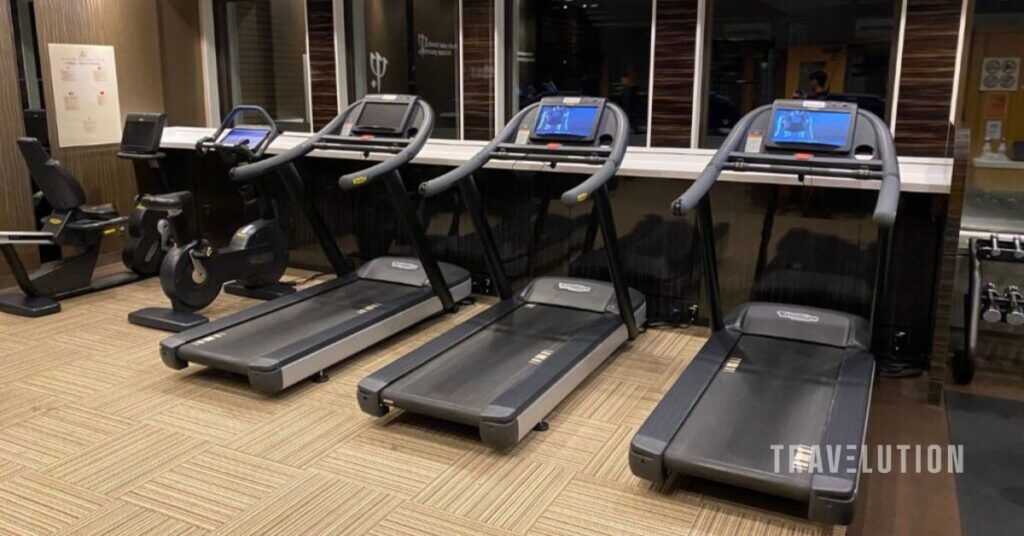 Ofuro – Onsen and Rotenburo
The Ofuro, located within Club Med Kiroro Peak, is a tranquil retreat featuring a sauna, onsen, and rotenburo that is exclusively available for guests of the resort. The facility has separate sections for male and female guests.
To use the ofuro, guests must obtain a big and small towel from the rack outside. After entering, shoes must be removed and placed in the rack. Then, guests proceed to the changing area, where they must disrobe completely and place their clothes in the basket. As nudity is customary in Japanese onsens, this should not be a concern for guests.
Guests then take the small towel with them and proceed to the shower area to cleanse themselves. This act is symbolic of purifying the body and removing mundane stresses before entering the onsen, which is a gift from nature. This way of thinking is aligned with Buddhism and local culture, emphasizing the importance of physical and mental cleanliness.
It is recommended that guests soak in the onsen for 10-15 minutes before moving to the rotenburo, located outside for another 10-15 minutes. Afterward, cool down by soaking in the cold tub. To complete the experience, guests should take a shower and wipe off excess water with the small towel before returning to the changing area to dry themselves with the big towel.
The ofuro provides numerous health benefits. The onsen water contains natural elements such as sodium bicarbonate and calcium, which are absorbed by the body during bathing. These minerals help increase blood flow, improve oxygen levels, and relax tense muscles. The serene surroundings of most Japanese hot springs can also help clear the mind and promote deeper relaxation, leading to a better night's sleep.
Excursions at Club Med Kiroro Peak
Club Med Kiroro Peak also offers two exciting excursions for guests to enjoy. The first is horse riding in the snow, which is a unique experience that allows guests to explore the beautiful winter landscape on horseback. The excursion is available at two levels: beginner and advanced, with prices starting from JPY11950 (MYR 378) for a 30-minute ride and JPY23900 (MYR 756) for a 60-minute ride.
The second excursion available at Club Med Kiroro Peak is the Glass Blowing Craft experience, where guests can learn the traditional art of glass blowing. This activity is a fantastic opportunity for guests to create their own unique souvenir. This is priced at JPY4000 (MYR 127) per person
Both excursions are a wonderful way to take a break from the slopes and enjoy some of the other activities available at Club Med Kiroro Peak. Guests are encouraged to book these excursions in advance to ensure availability and avoid disappointment.
Club Med Kiroro Peak Spa and Wellness
The Club Med Kiroro Peak Spa, also known as Spa KOTAN, offers a rejuvenating experience for the mind, body, and soul. The spa uses top-quality cosmetics, treatment oils, and gels that contain highly moisturizing placenta extract. This extract is known for its skin-rejuvenating properties, leaving your skin feeling softer and smoother than ever before.
It's important to know that Spa and Wellness is not included in the Club Med Kiroro Peak package.
Treatment
Duration
Price
Body Care – Whole Body
40 mins
60 mins
80 mins
100 mins
120 mins
JPY9,800 (MYR 310)
JPY12,800 (MYR 405)
JPY15,800 ((MYR 500)
JPY18,800 (MYR 595)
JPY21,800 (MYR 690)
Body Care – Point Massage
30 mins
JPY7,800 (MYR 247)
Thai Traditional Massage
80 mins
120 mins
JPY15,800 (MYR 500)
JPY21,800 (MYR 690)
Head Massage
40 mins
JPY9,800 (MYR 310)
Foot Care
40 mins
60 mins
JPY9,800 (MYR 310)
JPY12,800 (MYR 405)
Facial Esthetique
40 mins
60 mins
JPY9,800 (MYR 310)
JPY14,800 (MYR 468)
Body Treatment
30 mins
50 mins
JPY9,800 (MYR 310)
JPY15,800 (MYR 500)
Hot Stone Treatment
30 mins
50 mins
JPY12,800 (MYR 405)
JPY20,800 (MYR 658)
Kotan Special (Body + Face)
80 mins
100 mins
120 mins
JPY21,800 (MYR 690)
JPY31,800 (MYR 1,006)
JPY40,800 (MYR 1,291)
The spa is run by a team of highly skilled professionals who are passionate about providing the best possible experience for their guests. They take the time to understand your unique needs and preferences, tailoring each treatment to ensure maximum benefits for your skin and overall wellbeing.
Club Med Kiroro Peak Entertainment
At Club Med Kiroro Peak, the fun doesn't stop once the sun sets. Every night at 9:15 pm, guests are treated to an exciting evening of entertainment featuring the talented and energetic Club Med GOs and even the General Manager, Merlin.
From vibrant dance performances to circus acts, the nightly shows offer a variety of entertainment for everyone. The GOs put on elaborate costumes and choreographed dance routines that are sure to keep guests engaged and entertained throughout the evening.
The Club Med Kiroro Peak team takes immense pride in their nightly entertainment, and it shows in the high-energy performances that they put on. It's a wonderful way to end the day filled with fun and adventure.
Club Med Kiroro Peak Meetings and Events
Club Med Kiroro Peak provides an excellent venue for business events with its two well-equipped meeting rooms. The rooms can be easily combined to form a larger space, offering flexibility in seating arrangements to cater to your needs. The combined meeting room can comfortably accommodate up to 30 people in a U-shaped seating arrangement.
If you are interested in organizing a group event at Club Med Kiroro Peak, our team will be delighted to assist you in arranging everything from Club Med, flights, transfers, and meeting rooms. Contact us to learn more about the Club Med Meetings and Events package.
Club Med Kiroro Peak: Adults Only Resort
Club Med Kiroro Peak is a resort exclusively for adults, welcoming guests aged 12 and above. The resort boasts a peaceful atmosphere without any noisy children, and there is no kids club available. Young guests will need to follow the adult schedule.
As an adults-only resort, everything at Club Med Kiroro Peak happens a bit later. Breakfast is served from 7:30am to 10am, followed by lunch from 12pm to 2pm, and then late lunch from 2:15pm to 3:30pm. Aperitifs are served at 6pm, and dinner starts at 7pm, followed by a show at 9:15pm that continues until late. Late-night snacks are available from 10pm to 11pm for those who want a little something extra before retiring for the night.
Mountain Center at Kiroro Snow World
The Mountain Center is situated right next to Club Med Kiroro. It's open to the public, who want to enjoy skiing or snowboarding in Kiroro. Visitors can purchase lift passes and sign up for lessons with experienced instructors. For those who need to buy ski wear, the center has a ski shop that offers a wider range of options and prices compared to those available at Club Med.
Club Med Kiroro Peak: What to Pack for Winter
If you're not sure how to pack for winter, here's a helpful tip: dress in layers to keep warm. Personally, I found that wearing three layers worked well for me.
Base Layer – Uniqlo Ultra Warm Heattech long sleeve shirt and tights
Mid Layer – Sweater or a long sleeve shirt and a pair of jeans or windproof pants
Outer layer – Uniqlo Ultra Light Down
When heading outdoors, I brought along my Uniqlo Ultra Warm Vest to wear. I love the vest because it can be easily folded into a small pouch and carried around. Inside the resort, the temperature is comfortable enough that you'll only need a base layer and a mid-layer.
Uniqlo Malaysia has limited availability of winter wear, so it is important to plan and buy when available. Alternatively, travelers can fly into Tokyo or Osaka and purchase winter wear during a short layover before heading to Hokkaido. There is a wider variety of winter wear available in Japan and prices are often cheaper, especially when purchased tax-free as a tourist.
From Strangers to Friends: Our Journey at Club Med Kiroro Peak
"Come as strangers but leave as friends" perfectly describes the experience we had interacting with Club Med Kiroro Peak GOs. These hospitality professionals are not only experts in their respective fields, but they also have a unique gift for making us feel comfortable and welcome from the moment we arrive. They are passionate about their jobs and go beyond to create a memorable experience for every guest.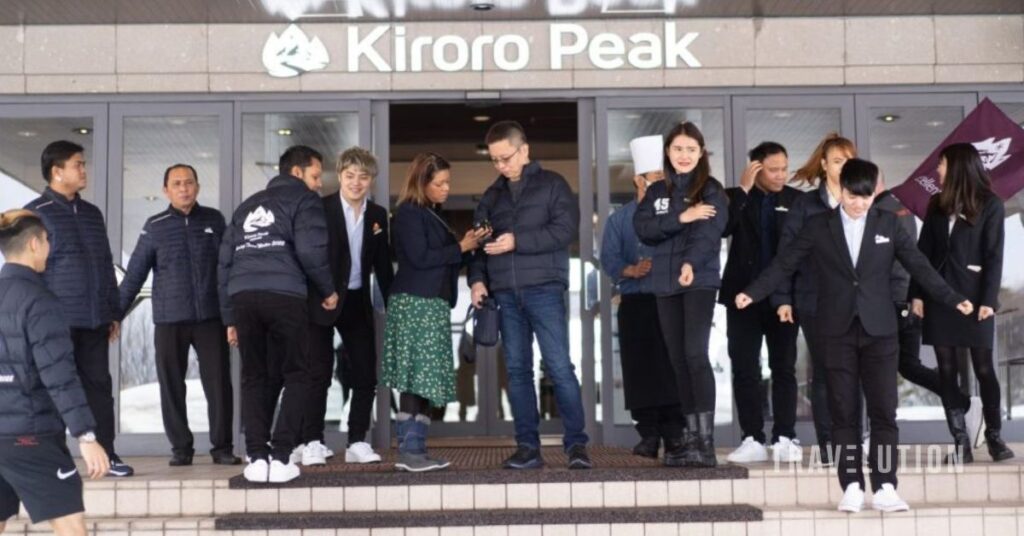 The Club Med Kiroro Peak GOs show true friendship and kindness to their guests. While I was staying there, James from the Reception team noticed that my fingers were dry due to eczema. He immediately went to his office and offered me his L'Occitane hand cream. Though it may seem like a small act, it meant a lot and showed how much the staff cares about their guests' comfort and wellbeing.
Tiffany from the Guest Relations team has remained in contact with us to this day. Recently, we needed special attention for one of our clients during their stay at Club Med Kiroro Peak, and Tiffany made sure to personally welcome the guests and ensure they had an enjoyable time throughout their stay. Her continued dedication and commitment to providing excellent service is a testament to the high standards of the Club Med Kiroro team.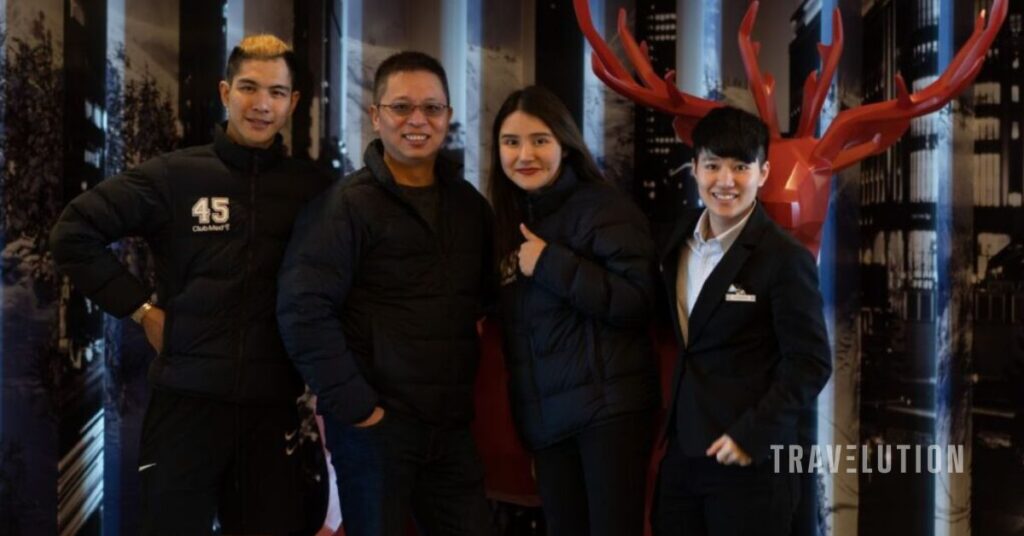 Club Med Kiroro Peak Review: What Others Say
Club Med Kiroro Peak has established a reputation for providing outstanding service to its guests. With over 300 reviews and a 5.0 excellent rating on TripAdvisor, it's evident that guests who have stayed at the resort have been satisfied with their experience. Many of the reviews highlighted the friendly and helpful GOs who go the extra mile to ensure that guests have a memorable stay.
Guests who have stayed at Club Med Kiroro Peak have repeatedly mentioned in their reviews about the General Manager, Merlin. They commended her for being hands-on, approachable, and always available to address any concerns they may have. Merlin sets the tone for the entire team and leads by example, ensuring that every guest is treated with the utmost care and attention.
It is evident that the staff at Club Med Kiroro Peak takes immense pride in their work, and their dedication is reflected in the positive reviews they receive. Guests can rest assured that they will be well taken care of during their stay at this exceptional resort, thanks to the hard work and dedication of Merlin and her team.
Insider Tips to Make the Most of Your Stay
To make the most of your stay at Club Med Kiroro Peak, here are some insider tips:
Book early, especially during the peak season, to take advantage of lower prices and a wider selection of available rooms. To make reservations, a deposit of 20% per person is required, with the balance payment due 60 days prior to check-in.
If you are travelling with children under 12 years, you have the option to stay at Club Med Kiroro Grand, which is just a 3-minute gondola ride from Club Med Kiroro Peak.
If you're planning to ski or snowboard for several days, it's more cost-effective to buy your ski wear than renting from Club Med.
Try the local cuisine, especially the Yakiniku specialty restaurant and the lavender ice cream.
Bring clothes that you can layer including a pair of gloves, scarf, and a trapper hat.
Club Med Kiroro Peak: It's Worth the Trip
Club Med Kiroro Peak is a world-class ski resort that offers luxurious accommodation, gourmet dining, and excellent skiing facilities. With its stunning location, top-notch services, and wide range of activities, it is the perfect destination for anyone looking for an unforgettable skiing experience in Japan.
Please don't hesitate to reach out to either Andy or myself for more information and to book your stay at Club Med Kiroro Peak. As we have personally experienced the resort, we can offer valuable insights to assist you in planning an unforgettable vacation.


Note: The prices listed in currencies other than Japanese Yen should be considered only as a general guideline and are subject to currency fluctuations.